Raggs Home | Pumping & Maintenance | Title 5 Inspections | Engineering & Repairs | Advice, Info & Appts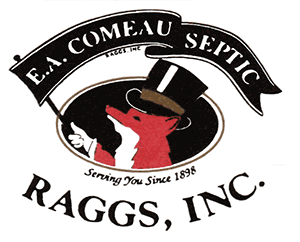 ---
Raggs, Inc. Home
Raggs Septic Service, Inc. d.b.a. E.A. Comeau Septic (est. 1898) (Raggs, Inc.) is the turn-key provider of environmentally-friendly, cost-effective, practical solutions for all septic and sewer projects. Services are focused on the planning, site development, design, construction and maintenance of subsurface sewage disposal systems (septic systems) for residential and commercial properties throughout New England. Our client base is diversified, ranging from single-family residential homes to multi-unit condominiums, restaurants and manufacturing facilities throughout and beyond New England.
Our wide range of services include septic pumping, grease trap pumping, maintenance, Title 5 inspection, project management, second opinions, site development, engineering, septic system installations, repairs and sewer connections. We can identify your problem, devise an affordable solution, and work with you to implement a reasonable solution for your wastewater disposal needs.
Overall, we believe that the most important service we offer is our ability to listen to your needs and respond with attentive assistance. Our commitment to work with our clients to achieve reasonable solutions to wastewater issues in this ever increasingly regulated industry is inexhaustible. We believe the result will be a cleaner environment for all of us.
RAGGS, INC. is proud of the customer trust we have earned.
Let us earn yours by providing QUALITY RESULTS.
Please contact us at info@raggsinc.com. We look forward to working with you.
Raggs, Inc. are licensed Massachusetts Title V Inspectors providing residential and large capacity, commercial septic tanks and systems installation and replacement. Raggs, Inc. also specializes in septic repairs, residential and commercial septic tank pumping and cleaning in Acton, Andover, Ashby, Attleboro, Attleboro Falls, Avon, Ayer, Bedford, Bellingham, Belmont, Berlin, Beverly, Billerica, Bolton, Boston, Boxborough, Boxford, Braintree, Bridgewater, Brockton, Burlington, Canton, Carlisle, Carver, Danvers, Dedham, Duxbury, Easton, Fitchburg, Foxborough, Framingham, Franklin, Gloucester, Grafton, Hanson, Harvard, Hingham, Holliston, Hopedale, Hopkinton, Hudson, Kingston, Lakeville, Lancaster, Lexington, Lincoln, Littleton, Lynnfield, Mansfield, Marlborough, Maynard, Middleboro, Middleton, Milford, Natick, North Andover, North Attleborough, North Billerica, North Easton, North Grafton, North Reading, Norton, Norwood, Peabody, Plainville, Plymouth, Randolph, Reading, Rowley, Salisbury, Seekonk, Sharon, Sherborn, South Easton, Grafton, Southborough, Stow, Sudbury, Taunton, Tewksbury, Topsfield, Townsend, Village of Nagog Woods, Waban, Waltham, Wareham, Wayland, West Wareham, Westborough, Westford, Weston, Wilmington, Woburn, and many other fine communities in Massachusetts. Call Raggs, Inc. for all your septic system's needs.
© 2011 Raggs, Inc.